Upland Trains has proudly helped model train enthusiasts and young engineers for the past 30 years
Upland Trains can take care of all your outdoor/indoor G-scale needs ! These are some of our most popular items! If it's Thomas and Friends you are looking for, we can help you out! Track is much needed and readily available to send out to you at any time! Our most popular set of the season is our train that you can build to your hearts content with your favorite building blocks on flat cars!!! Our favorite manufacturers have some new items coming out in 2018, so keep checking back with us for those exciting new items to come!
LGB STARTER SET
$249.00
This starter set is fun for all ages! This is ready to run and play! It has everything you need–track, transformer (power), and train. This is made in Germany from a company that makes top of the line, good quality products. This means that this is an investment worth making to pass on from generation, to generation! Making this a tradition that even your great-grandchildren will enjoy one day! This train/scale is the best because you can add on train cars.  The gondola in this set is perfect for loading and unloading cargo (it can be animals, hot wheel cars, coins, etc…)! Sitting figures can go into the passenger car too. The fun never stops!
$24.00
This Airflyte 15′ Shasta trailer in green and white is Amazing! There is lots of detail inside which you can see when you open the side door!  This limited edition, die-cast trailer is 1:24 scale and perfect for your g scale layout. Whether you choose to display our variety of trailers in your trailer park, or have it on the road behind your pick-up truck, you are sure to be the envy of all your neighbors with this item!
FEATURED PRODUCTS
Featured items hand picked by our staff of train lovers.
What is a train layout without POWER? We offer many top of the line power products for g-scale. Believe us, this is not the area to skimp on!
Schleich has beautiful hand crafted accessories made in Germany. They are a great addition to any g-scale layout (and might keep young hands off your Locos)!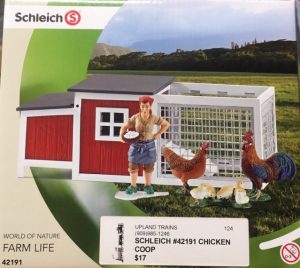 From rail joiners to bumpers to this great product from Piko which is a rerailer and train crossing all in one, we offer a full line of track accessories for all your needs!
Check out our monthly promotions for amazing deals on hot items
Our featured item is new for January 2018!!! This is a must have for all you Union Pacific Collectors! This item is made by Piko in their Germany factory.  It is durable and made to resist all outdoor weather. The container is removeable and the doors on the container can open and close making this car very realistic.